Patients who carry Emerade auto-injector pens for the emergency treatment of severe acute allergic reactions (anaphylaxis) to foods, medicines or insect stings are being reminded of existing advice to carry 2, in-date pens with them – at all times.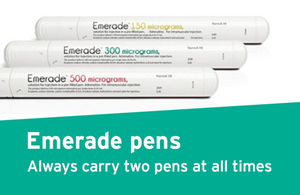 The advice, from the Medicines and Healthcare products Regulatory Agency (MHRA) and the Department of Health and Social Care (DHSC), follows reports from the manufacturer, Bausch & Lomb UK Limited, of Emerade pens that have failed to activate.
In this situation, the needle of the pen is not released from the autoinjector when used, and a dose of adrenaline cannot be delivered. The issue makes it particularly important that users carry 2 pens at all times.
When an Emerade pen is used, it should be pressed very firmly against the thigh. If this does not result in activation, the patient should immediately use their second pen. More detailed information for patients is available. This includes images showing users what an activated pen looks like, compared to a non-activated pen.
If the patient is not improving, suggesting that a further dose of adrenaline is needed, additional attempts should be made to administer a pen that has failed to activate, while awaiting the arrival of the emergency services.
The MHRA has issued a Drug Alert and has written to healthcare professionals asking them to share this advice with all patients and carers who use an Emerade pen.
Samantha Atkinson, MHRA Director of Inspection, Enforcement & Standards, comments:
It is important to always carry 2 pens. At the first signs of anaphylaxis, the patient or carer should administer an Emerade pen by pressing it firmly against the thigh. If the pen fails to activate, they should immediately use the second pen.

Emergency help should be summoned by dialling 999 and saying "Anaphylaxis" (pronounced anna-fill-axis). While waiting for the ambulance, additional attempts should be made to activate a failed pen if the patient is not improving.

Patient safety is our highest priority and our role, as regulator, is to make sure medicines and medical devices are safe and effective.

Patients experiencing any problem with Emerade failing to activate should report the incident via the MHRA's Yellow Card system and keep the pen for further examination.